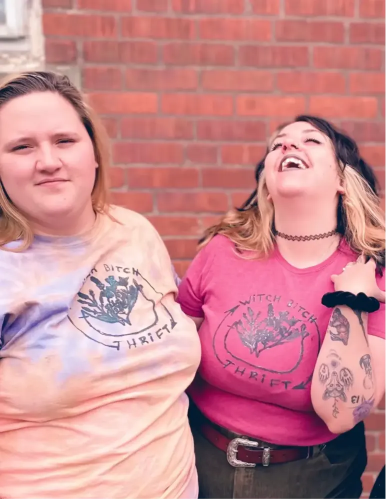 2 musicians get together to run a witchy thrift shop: About Us
🧡 Have we met? 🧡
Hi, we're Witch B!tch Thrift - a thrift & witch shop based in Connecticut & serving our community online worldwide! Here's our story:
WBT started in September/2020 (yes, amidst the pandemic!) with Virginia and Amanda. We started by selling pieces on our Instagram feed, and started to grow our following. We were running WBT out of Virginia & Eva's living room, but quickly outgrew that space, so in January/2021 we signed the lease for the WBT HQ! Shortly after that, Eva joined our team as we began to work on renovations.
Once we had a physical space to work from, the thought crossed our minds "why don't we turn this office space into a hidden shop?" - and that we did. WBT HQ opened up to the public in March/2021, attracting locals & travelers to Bridgeport's newest hidden gem! Early summer 2021 we stopped our Instagram drops and launched our own online shop, releasing weekly collections while running the storefront.
We temporarily closed the storefront (COVID sucks) in January/2022, followed by Amanda's official exit from WBT. She was an integral part of creating & building the shop for the first year, and she has definitely left a profound impact on the rest of us - we wish her much luck on what's next on her journey!
⚡So who are we?⚡
We're a couple of neurodivergent queer women, into secondhand fashion, witchcraft, cute pets, the beauty of the world, & hyping up our people. We work to put Connecticut on the cool map, and break down stupid fashion rules.
🧡 Virginia (she/they) is the coffee fueled Virgo superhuman driving all things. Her positive approach helps us see the silver lining in even the most challenging situations. They manage all social media, website, and internet related matters. When she's not at HQ, she's likely playing an instrument or writing a song.
🧡 Eva (she/they) is our Operations Master, handling all packing & shipping of our orders, managing inventory & more. She is likely packing your order while singing some sweet musical theater! Eva has strong dad vibes and is always trying to take care of those around her.
In the long scheme of things, we are still a BABY shop, and we are incredibly grateful for the journey thus far. Building this community with you is the most gratifying thing we've done in our lives, and we are so so stoked that you are here with us.
2022 has a LOT in store for WBT and we cannot wait to continue walking this path with you! THANK YOU for your continued love, support, and trust in our vision. ✨