Do you want to shop at WBT but live too far?
Schedule a Virtual Shopping Appointment!


Witch Bitch Thrift now offers Virtual Shopping Appointments, in an effort to accommodate those in our community that may be far away and bridge the gap to treasures & quality thrifted & vintage goods!
Virtual Shopping Appointments come in 2 flavors: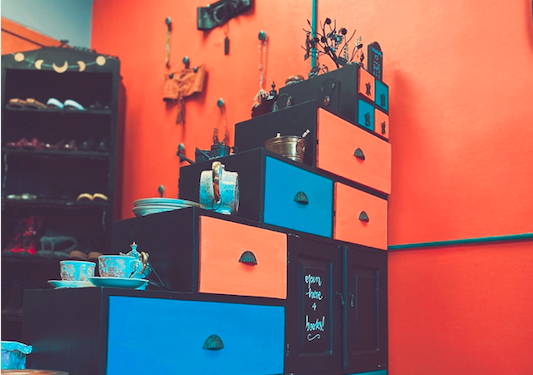 ---

Virtual Shopping Appointment
Cost: $30 ($30 returns to you in store credit)
60 minutes
A freeform virtual visit! Kind of like being here but through our lens. We'll take you around the shop, show you pieces you are interested in, maybe try some of them on for you upon request.
You'll be able to shop all clothes, accessories, home goods, and more!

Cost: $75 ($50 returns to you in store credit)
60 minutes
Kind of like a Mystery Bundle, except not a mystery! When you book your appointment, you'll be prompted to fill a questionnaire about your size, style, hopes & dreams. When we log in for your appointment, we'll have curated a rack based on your questionnaire.
The goal is to have you leave your appointment with complete outfits to refresh your wardrobe!
Virtual Appointment Policies
 

* Virtual Appointments happen through video call, but can be run through text if you're not into video chats! *

 

You will receive an invoice in your email after booking your appointment. If the invoice is not paid within 24 hours, your appointment will be canceled.

 

Fee returns to you as store credit (based on the option above), however, if your appointment is a no-show, the fee is non-refundable. We allow for a 10 minute grace period before we consider it a no-show.
You can reschedule up to 24 hours before our appointment. If you cancel it, the money stays in your account as store credit.
 

In the event you do not spend your store credit during your virtual visit, the remaining balance will stay in your account for future purchases.
Shipping not included.